About The Game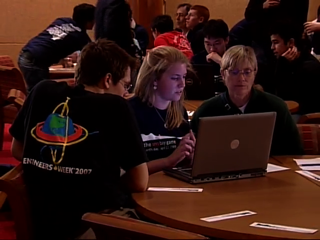 The UVA Bay Game is a large-scale participatory simulation based on the Chesapeake Bay watershed. The Game allows players to take the roles of stakeholders, such as farmers, developer, watermen, and local policy-makers, make decisions about their livelihoods or regulatory authority; and see the impacts of their decisions on their own personal finances, the regional economy, and watershed health. It is an adaptable educational and learning tool for raising awareness about watershed stewardship anywhere in the world; a tool for exploring and testing policy choices; and a tool for evaluating new products and services.
Developed by a multi-disciplinary faculty and student team, the UVA Bay Game combines a video game format with current demographic, economic, and scientific data to create a powerful tool with real-world applications and impact. It has been hailed by federal and state agency, NGO, and corporate and education leaders as "the first of its kind."
"Unique in its scale, participation, and expertise. Never before have we seen a university-wide, university-supported collaboration of this scale. . . . The UVA Bay Game establishes the intellectual infrastructure that pushes collaboration and understanding between fields forward." Arizona State University Center for Policy Informatics. February 2010
"All state regulatory commissions and boards should use the UVA Bay Game." Jack Travelstead, Deputy Commissioner, Virginia Marine Resources Commission; "There is nothing else like it out there." Ann Jennings, Virginia Executive Director, Chesapeake Bay Foundation. April 2010
"The UVA Bay Game is simply the best watershed management tool that exists. . . . The game demands that students make complex ethical decisions. . . . One of the great features of the game is that circumstances change over time, forcing students to continue to learn and adapt. It is adaptive learning that ultimately allows students to succeed at the game and that will ultimately allow resource mangers to succeed in restoring the Bay." Howard Ernst, professor of political science, US Naval Academy and author of three notable books on the challenges of protecting the Chesapeake Bay. April 2011
In our gameplays in UVA classes and with real world stakeholders we see that players typically begin play as individual actors but quickly form teams and make collaborative decisions to achieve economic and environmental progress. Changes in information flow motivate behavior change, and it is in collaboration that we see innovative solutions. Players change the future of the Bay by comparison to projections based on current stakeholder behavior.
The UVA Bay Game thus provides players with a new sense of individual and collective agency, and gameplay records suggest new directions for research in behavior change and policy development.
For industry and policy-makers the UVA Bay Game can serve as a testbed and as a tool for stakeholder engagement. With assistance from IBM we are building a second Chesapeake Bay simulation, far more detailed than the Bay Game, that will support the evaluation of products, services, and policies. The UVA Bay Game also has a global reach, through development of simulations for other watersheds, such as the Murray-Darling Basin in Australia.
The UVA Bay Game now serves as a platform for education, research, and policy applications that bridge the virtual and real worlds for watershed conservation.
UVA Bay Game development is sponsored by the Office of the Vice President for Research, in partnership with Azure Worldwide, a strategic environmental design, development, and marketing company co-founded by environmentalist and social entrepreneur Philippe Cousteau and Andrew Snowhite, a UVA environmental sciences alumnus.
For further information, contact: Eric Field. (emfield@virginia.edu)