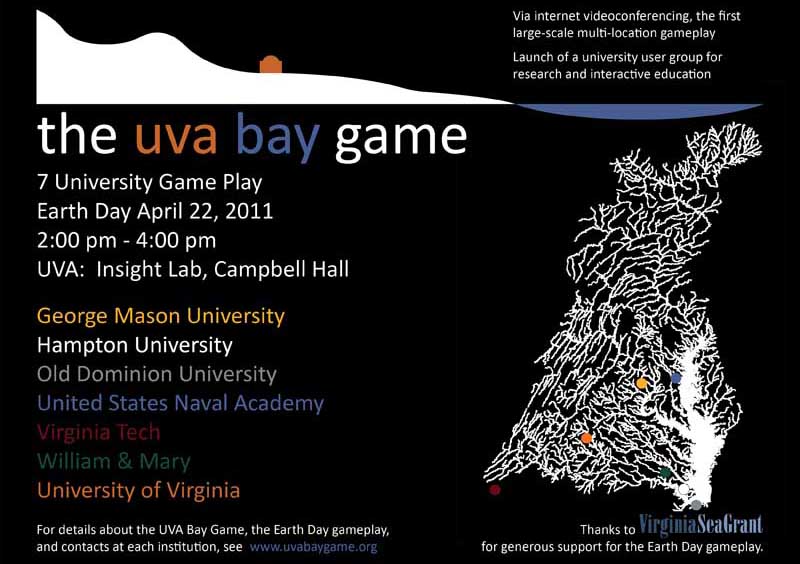 University User Group
On Earth Day 2011 the founding members of the UVA Bay Game User Group will conduct the first large-scale multiple location gameplay, using internet videoconferencing to link player teams from the United States Naval Academy, George Mason University, William and Mary, Hampton University, Old Dominion University, Virginia Tech, and the University of Virginia.
This innovative gameplay provides a distinctive opportunity for multiple institutions to join together to celebrate Earth Day by demonstrating the power of individual and collective decision making to alter the current trend of decline in Bay health.
The gameplay also launches a regional higher education user group that in 2011-12 will test the UVA Bay Game in a wide range of class sizes and format, from environmental sciences to architecture, planning, economics, and political science, and extend the collaborative game development process that is a defining feature of the UVA Bay Game. During this coming year we will assess game playability in diverse settings, collect preliminary data for learning assessment, and lay the foundation for a much larger user group that can include every higher education institution in the six-state (and District of Columbia) Chesapeake Bay watershed. We know of no comparable initiative in any other US watershed.
The gameplay kicks off on 22 April at 2:00 pm and will wrap up at 4:00 pm. The UVA School of Architecture's Insight Lab will serve at the production studio. With large screens and monitors we will link all the participating teams in one large virtual space. At each of the seven institutions student teams will represent one of the seven major riversheds in the Chesapeake Bay region:
The point person for each institution can provide further information about local gameplay locations and arrangements.
The Virginia Sea Grant Program has provided funding to support the Earth Day 2011 7 University gameplay.
For media updates, please contact Fariss Samarrai, UVA Media Relations: fariss@virginia.edu.
User Group Members:
Click here to access password protected background materials for the Earth Day 2011 gameplay.