Visualizations
The following are visualizations of datasets, systems, and relationships surrounding the Chesapeake Bay, its watersheds, and the people and activities taking place within.
These graphics were developed by students at the University of Virginia in the seminar Information Space during the Fall semester 2010. This class in the School of Architecture was part of a three-class collaborative semester on the Chesapeake Bay, along with The Chesapeake Bay Ecosystem in Environmental Science and Seminar in Policy Informatics in Systems Engineering. During this course, students played the Bay Game several times and assisted in testing its development.
Click on each image to view full graphics.
240 MILLION POUNDS OF NITROGEN
by Jennifer O'Brien
A study of sources of Nitrogen flowing into the Bay in 2009 by way of human practices, shown by volume within associated sectors. [View as Website ]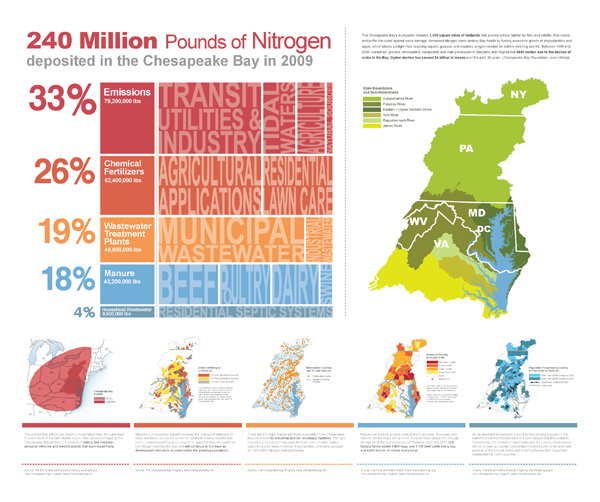 CLIMATE CHANGE AND IMPACTS ON THE CHESAPEAKE BAY WATERSHED
by Scott Kaiser
A diagram of causal flows of emissions from six states resulting in increases in temperature, sea level rise, changes in precipitation, and hypoxia in the Bay. Data collected from several sources and registered spatially.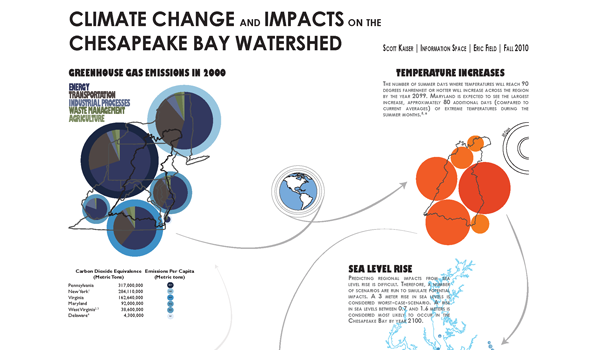 THE TRUE COSTS OF RESIDENTIAL DEVELOPMENT ON THE CHESAPEAKE BAY
by Peter Stutts
A study of the "true costs" of development across different housing densities and who is paying these costs.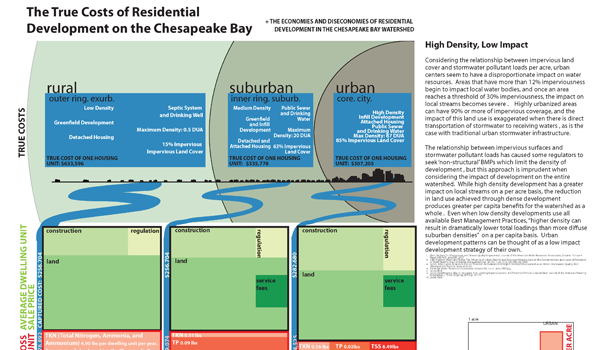 NPS VISUALIZATION
by Tim Bevins
This visualization uses a "bubble graph" approach to track volumes of Nitrogen, Phosphorus, and Sediment (NPS) deposition into the Chesapeake Bay along scales of Impact and Regulation. Through this graphic technique, we can comparatively analyze the relative value of decisions to determine which choices are having positive impacts and which may be spending resources, but inefectual.
This visualization technique is proposed to become directly embedded into the game to produce live and dynamic visuals of a game play's progress and impact. The visuals can compare watersheds, industrial sectors, or even all players in a single graphic. [ View Sample Animated Graphic ]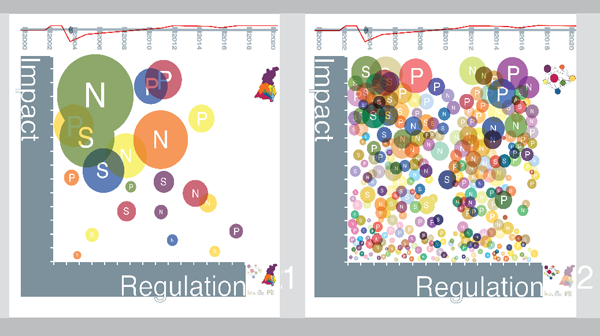 A BAYGAME WIDGET OF PERSONALIZED DECISIONS
by George Foster
This graphic shows a proposed interface to individual decision-making for players within the UVA Bay Game. The interface dynamically stacks individual impacts of each selected practice, including reduction impacts, into an aggregate total. Through this, the interface exposes comparative decision trees for players.